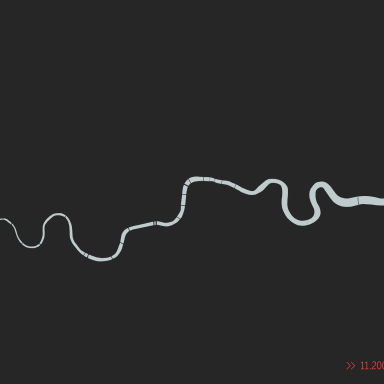 30 months of living in London compressed to 30 seconds.
Please click image to play.
Everyday walks and weekend strolls, all recorded thoroughly whenever I walked a part of the city for the first time. A screenshot saved by the end of each month led to this compact record that is summing up my exploration of 'Walking London'.
Starting out from a Kensington hostel, job-hunting took me to various parts of the city. A soon after move to East London and my workplace at the Southbank led to a rapid coverage of the streets in between. Discovery tours on the weekends revealed further areas. When new routes were just about to dry out, a move to Camberwell opened up a new surrounding south of the River Thames.
London, U.K.

Berlin & Tallinn 
Architect, Writer, Explorer, Metrokit Pioneer;
Has lived in: Braunschweig, Bremen, Liverpool, Vancouver, London, Moscow and now Tallinn.
Share this: