Survey of Los Angeles Dwellings is a project exploring the concept of home in our urban landscape. I am creating a series of paintings from all the 200 + neighborhoods in Los Angeles County.  I am interested in seeing the differences and similarities in each neighborhood – to see all the ways we live in this vast metropolis.
Baldwin Hills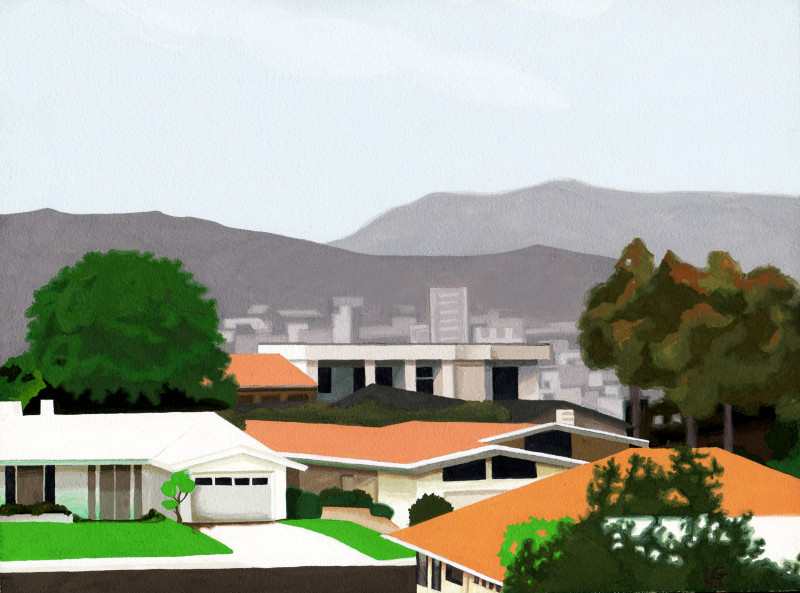 There are many iconic hilltop neighborhoods in Los Angeles. Hollywood Hills, Beverly Hills, and in the mountains rising above the beaches of Malibu. Baldwin Hills, though, was a neighborhood I knew nothing about, I looked at a map one warm day and headed over. It is located in the southwestern section of the county.
From the highest point the views were vast and clear; I could see the downtown skyscrapers 10 miles to the east, and the San Gabriel Mountains 25 miles to the North. There was a silence engulfing the hills, both from its perch above the basin, and from the lack of any street activity. Everything was bright and clean, and the sun was strong overhead.
I saw so few people on the street it was impossible for me to get a sense of who lived here. Later I read that Baldwin Hills is among the wealthiest majority-African American communities in the United States.
 *  *  *  *  *
Skid Row (Central City East)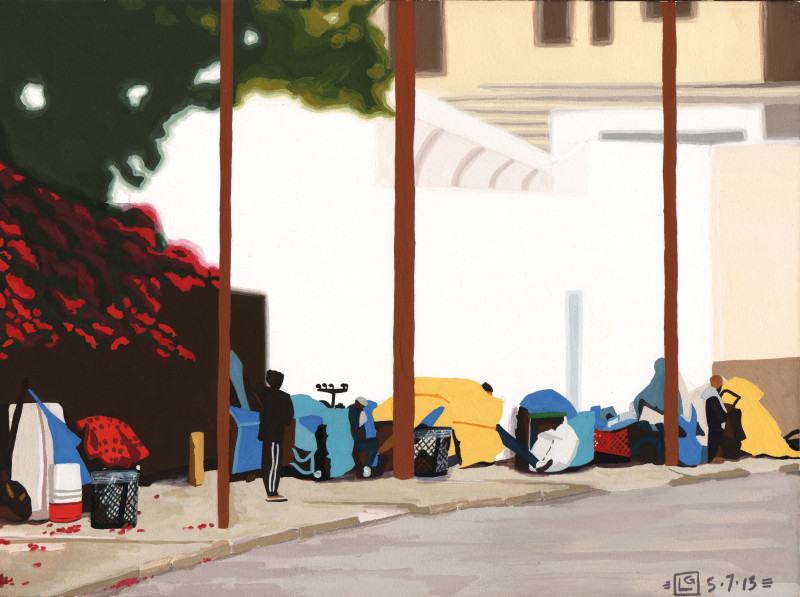 This area is technically known as Central City East, although many refer to it as Skid Row. The sidewalks are almost impassible due to tents, shopping carts, people- elderly and middle aged, children, babies- boom boxes and activity, other sounds.
I was crossing the street and this older grandfatherly type man caught up with me and kept my pace. He never looked at me, instead just looked straight ahead. Under his breath he said in a thick (Greek? Armenian?) accent, "Be careful. Be very careful, especially for the people who are behind you." Then he picked up his pace and turned down a side street, still never making eye contact with me.
 *  *  *  *  *
Chinatown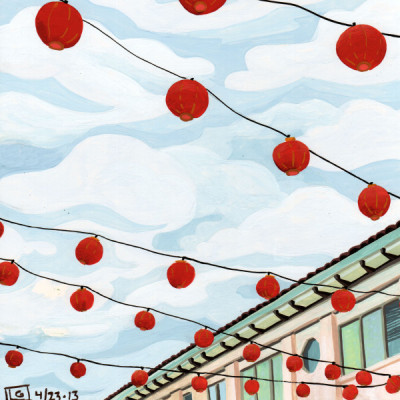 I visited Chinatown right after my trip to Skid Row. I felt my body relax in this totally different setting where I could just disappear in the crowds of people. It was as if almost everyone was a tourist, camera pointed and trinkets purchased from dimly lit shops. I ate some chicken and broccoli and bought a pair of velvet slippers for $4.00.
*  *  *  *  *
El Sugundo
El Segundo is a charming little micro city, it boasts an old school downtown with Main Street, beautiful homes- 30s era spanish bungalows, craftsman houses, and modern clean lined dwellings. I found a dark little diner, welcoming and warm with its wood paneling and old fashioned signage. I had steak and eggs at the 50s style lunch counter, my knees practically touching the diners to my left and right. There were booths packed with men looking at their phones, young couples flirting, moms with their little ones.
This picturesque scenery belies El Segundo's greater environs. El Segundo is surrounded by massive industrial outposts. Looking to the north, in very close proximity, is Los Angeles International Airport; to the west (blocking direct access to the ocean) sits a giant Department of Water & Power facility named "Scattergood Steam Plant"; to the south is a huge Chevron Oil Refinery, complete with billowing smoke from tall smokestacks.
*  *  *  *  *
Playa Del Rey
Playa Del Rey is a beachside community on the Westside of Los Angeles. The northern part of the area was originally part of the Ballona Wetlands, one of the last remaining wetlands in Southern California.  This land has been drastically altered by past industrial use and development. The area has been passionately contested for a long time as developers are often in opposition to environmentalists.
These houses appear precariously perched above an ecological jewel; it seems as if this whole complex system could collapse in a moment. The houses are unbelievably large, especially in the context of an urban environment. Many are 4,000-5,000 sq ft, some over 10,000 sq ft. Two major thoroughfares bound the area, with thousands of autos whizzing by. Meanwhile the song of birds in the wetlands mute the din of traffic. As I walked around the marsh a hawk circled overhead, a companion in my explorations.
*  *  *  *  *
Westlake Village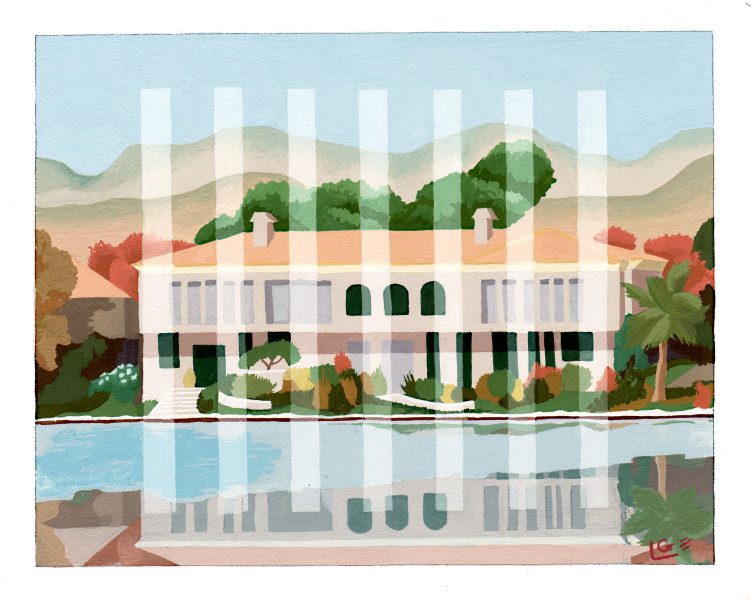 Westlake Village, a very neat and tidy planned bedroom community, straddles Los Angeles and Ventura Counties. A large gated residential development is centered around a manmade lake. The day I visited was warm and it had been a dry winter, the rolling hills behind the houses were already turning brown. It's so unusual to see a lake or pond in our dry climate; I tried to get close to the water. There was a fence denying me access and I could only catch glimpses between the bars.
*  *  *  *  *
Downey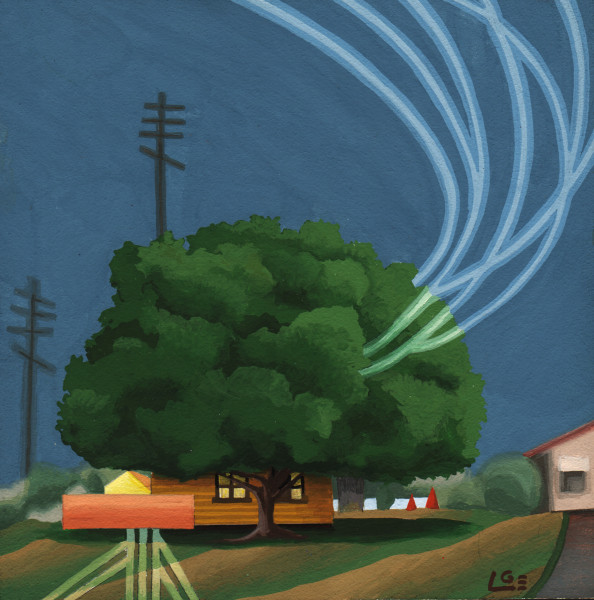 Downey is a small city in southeast Los Angeles County. The layers of history are still very much visible even though much of the area has been developed. Amidst downtown there are examples of its former agricultural past- farm houses still standing, some with land surrounding them. The downtown appears neither at its lowest point nor its highest, fixed at a middle point of "revitalization." Some of  the older structures are even more beautiful for existing among their newer siblings, their stories transcend time but not place. They remain rooted in their location, giving voice to its past.
*  *  *  *  *

Los Angeles is a city which elicits strong opinions from people throughout the world. Many are quick to dismiss the city as a wasteland of sprawl, traffic, and superficiality. Others champion the beauty of its beaches, mountains and canyons, its creative energy, its diversity. Los Angeles can be seen as a city with no center, but when explored it reveals itself to be a city with many centers. Hundreds of cities and communities merge into one another; the entirety of Los Angeles County exists as one expansive metropolis.
The population of Los Angeles County exceeded 10 million residents this year; it is the most populated county in the United States. On its own it would be the 88th most populous country in the world, exceeding Sweden and Austria. As sprawl has reached a critical level the population density is now increasing and many are favoring a return to traditional urban environments (i.e. the revitalized downtown or condo developments that build up rather than out). Over the past two decades the level of diversity continues to increase as well.  Yet there are also the outlying areas in the foothills and in the mountains which maintain a rural feel. There are nascent developments on the fringes of the high desert. For all these differences each area is a vital part of our unique metropolis. Together these disparate communities create a collective identity that defines Los Angeles.
Since the earliest days of ranchos and pueblos Los Angeles has grown and changed at a frenetic pace. In the last century and a half so many cycles of growth, decay, and revitalization have occurred. Millions of people have grown and changed with the city, while claiming their own little piece as home. While we live in relative proximity to one another we often don't know anything about our neighboring communities. We travel for hours along the jammed freeways without ever exiting to explore the neighborhoods we pass through.
With all this in mind I began a project to explore the concept of "home" in Los Angeles. I  wanted to observe the differences and similarities of our dwellings throughout this vast metropolis. I wanted to explore these neighborhoods that form our Los Angeles identity. The project consists of creating a series of small paintings of homes from each of the 200+ cities, unincorporated areas, and communities within Los Angeles County. This includes Malibu, Compton, Beverly Hills, Silverlake, Long Beach, Skid Row… everything. I drive to a neighborhood, get out of the car and walk around until I get some sort of feeling for the area. Then I find a residential building (or trailer, or tent or ?) and take photos.
Back in the studio I make a painting from the photos, really trying to focus on bringing out interesting elements unique to that building and its neighborhood. The diversity and the stories, the different landscapes, the ideas present in each of the homes all come together to paint a bigger picture of what LA is to all of us.  I am also realizing that I am moving through my own city as a tourist. I have begun to question how our different neighborhoods shape our identity, and where boundaries (tangible and intangible) force us to question how we view ourselves and our neighbors.

Artist living and working in Los Angeles. Has lived in Providence and Boston and spent endless summers on a tiny island in Maine. Loves cooking, gardening and getting terribly lost.
Share this: