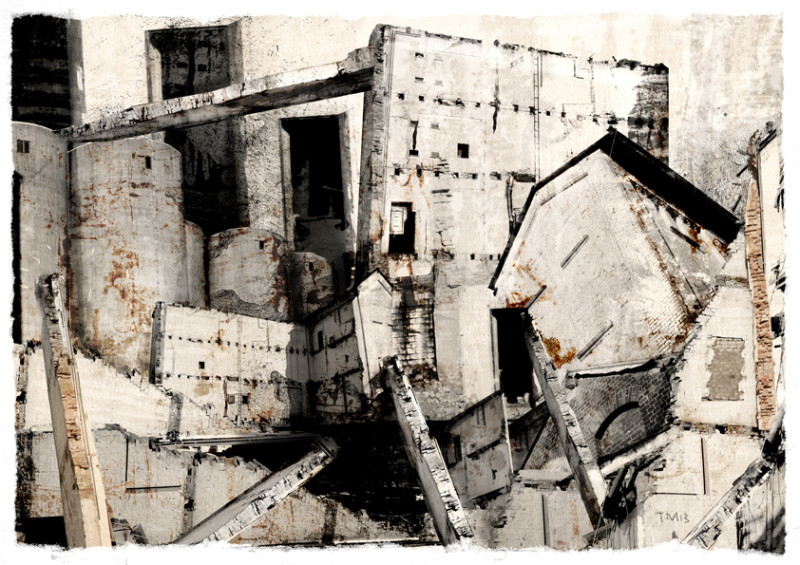 Sickte is a village in lower saxony/germany a few kilometers away from the village where I grow up. In the last years its population permanently increased, nowadays the old village center is surround by typical german suburban (infra-)structures and Sickte has become a place that neither can be described as a village, nor as a small-town. It represents something in between.
The wheat-mill, located right in the old center of Sickte, seemed to be a mirror of this undecisive state of existence. Over the last hundreds of years it became one of the biggest mills in the area and – unlike the place it was surrounded by – its dimensions grew horizontally AND vertically until massive concrete silos and storehouses overtopped the tower of the church situated right over the street. The final appearance of the mill was a mixture of rather old (agriculture-) buildings and industrial- or even bunker-like extensions.
For me, the mill was a rural landmark. As a child I was fascinated by its dimensions. Of course, I had seen bigger or taller buildings, but this colossus that just won't fit in its surrounding, impressed me in a special way. His grey face nearly scared me with its self-displayed potency and immortality that defiantly covered any lack of restraint or proportionality. As I grew older, the colossus became smaller and smaller for me, his ferocious arrogance vanished and his expression became wearily and pathetic, like he knew that his time had come.
But at the end, he gives the workers and the wrecking balls a hard time as they tried to bury his glorious past. It took them a long time to demolish his framework, to carry away his concrete remains and to build a knew shopping-center on his place.
As a kind of personal reverence to this grey fellow, I made this digital-collage from photos I took on September 2010. At this time nearly half of the mill still existed, the new shopping-center opened in August 2013.

Illustrator and graphic-designer.
Currently lives and works in Eilum (Germany).
Loves train stations, country lanes, wandering and wondering
Share this: