People sitting side by side on the train or waiting next to one another for the lights to turn green. Their pathes crossing during their daily routine is hardly ever acknowledged. Kyla Keir pursued the peculiarity within the ordinary over the course of one year in her street photography project '365 days in Vancouver'. The images Kyla selected for us allow for an inside view on everyday life in Vancouver.
Kyla's complete impressive series is shown in her Flickr set: Take a close look into Vancouver's streets.
* * * * *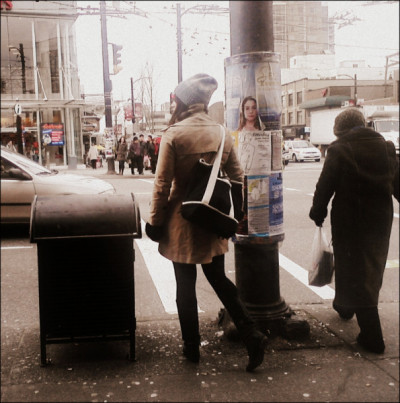 The picture that started my 365-day street photography project. I posted it online and was amazed by the positive response I got. The initial idea for the series came from my boyfriend who had begun his own 365 project about a week earlier. I decided to take a few photos one day as we were sitting in a café and the scene above was taken through the café window. I used my little non-descript LG cameraphone to take all the shots throughout the project. I wanted to see what a simple device could do. For the first couple of weeks I was so nervous taking photos of strangers on the street that sometimes my hands would shake when I would take a shot. I was concerned about getting caught. By the end of the project I had taken over 10,000 shots and only been caught by two people, which is pretty surprising considering how many photos I took.
* * * * *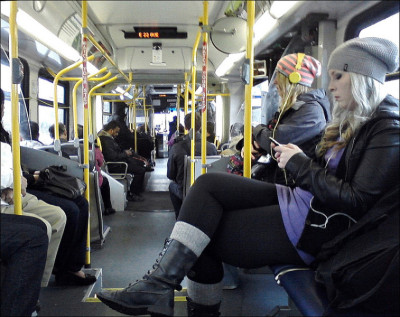 I spent a lot of time on transit while doing this project. This shot is of an unusually quiet morning bus ride down Fraser Street on the East side of the city. Vancouver is not known for being the friendliest place in Canada and it's expensive to live here. People can be quite uptight or standoffish. It's easy enough to meet people but more difficult to make solid friendships. This is a complaint you'll hear from a lot of people living in Vancouver. I wanted this project to get away from that mindset, to show that there are nice people here, just going about their day like everyone else in the world.
* * * * *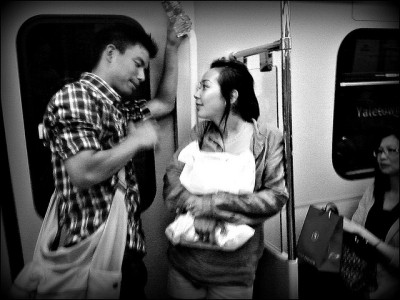 Two young people on the train. They obviously have a connection with each other. I love how dreamily she is looking at him and how relaxed he is with her. The older woman in the background smiling at them adds to the warmth in this picture.
* * * * *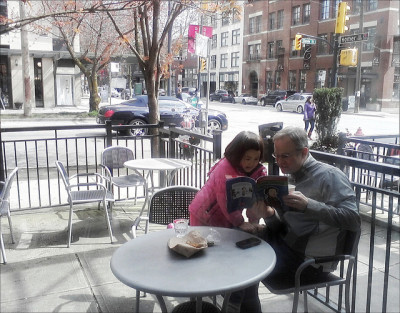 This is at a downtown café on the corner of Homer and Davie. It's away from the main hustle and bustle of the city and there are a lot of nice brick buildings around. I like the quiet here. I took this photo through the window as I was having an Americano. This
little girl was absolutely enthralled with the life and times of Edgar Degas. I had no idea Impressionist painters were such a hit among young children.
* * * * *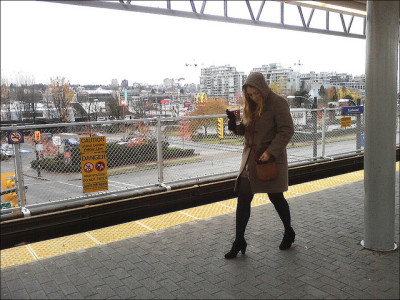 I felt most comfortable taking photos of young women because I am one myself. This shot is on a train platform on the East side at Main and Terminal. It's a little bit gritty here as it's one of the more industrialized areas in the city. There are warehouses, fast food restaurants, run-down bars and a lot of graffiti. To see this girl dressed so nicely made her look charming and she really stood out from her environment.
* * * * *
The young men on the left were trying to sell their homemade CDs on Robson Street. We don't get a lot of sun in Vancouver, so when it does show its face, people are extra happy. The guy in the red t-shirt asked if I wanted to buy a CD, but I politely declined. He was really nice and wished me a good day.
* * * * *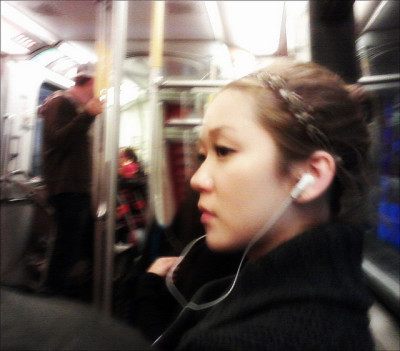 I took this photo over my boyfriend's shoulder while we were on the Expo Line. I thought she was really cute and wanted to get a shot of her for my project. When we got off the train, this girl called out after us and asked if we had accidentally left a bag behind. We noticed we had indeed left it behind and ran back onto the train to retrieve it. We thanked her for her kindness and it was nice knowing I had a photo of the girl who helped us out.
* * * * *
I am really pleased with this shot. It was one of the first clear photos I got of someone's face. I like his relaxed demeanor and the way the light glows on him. As soon as I saw him I quickly got my camera out as I wanted to make sure I got a photo of him. That's the Hudson's Bay Company on the left, Canada's oldest retail company at over 340 years old.
* * * * *
This is the Vancouver that most people know. Wet and grey. I liked how this woman stood out with her bright pink umbrella. What's interesting is that there are two other pink umbrellas in this shot.
* * * * *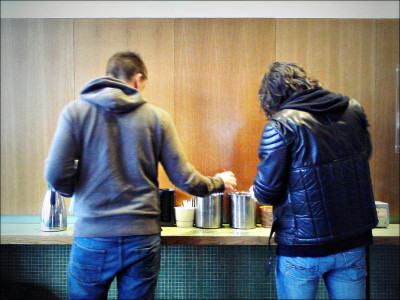 I drink a lot of coffee. Americanos with a bit of milk and a splash of cream. This is my favourite coffee shop. JJ Bean on Main Street. It is my second home. That's my photography partner on the right. We spent a lot of our time drinking coffee here.
* * * * *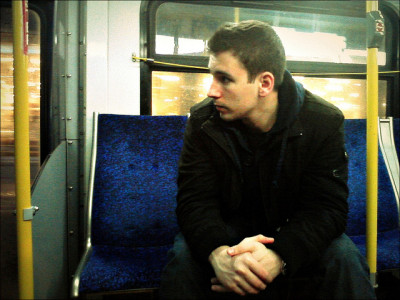 This is one of my favourite shots out of the whole series. It was already nighttime and I didn't think I was going to get a good photo by the end of the day. Feeling a little discouraged, I got on the bus, sat down, looked up and saw this guy right in front of me. That was one of the things I liked best about doing this project. You think you're not going to get anything good then all of a sudden there is the perfect subject sitting right in front of you.
* * * * *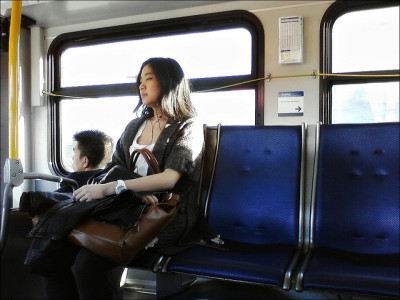 I love the tranquility in this photo. You have to look at the small things in Vancouver in order to appreciate it. Small things like a quiet ride on the bus, people who say hello to you on the street, the cherry blossoms in the spring, people who let you know you've accidentally left something behind on the train, a cool breeze from the mountains through your window, and the barista who makes you the perfect Americano every time. I came away from this project appreciating the city more because I took the time to explore and document its people.
* * * * *

Works by varoius people who are not registered.
Share this: